Not only is it a great gift to give but it's a wonderful gift to us when someone purchases our books too! Loved this post.
Amaranthine by Joleene Naylor
Yes, it's time to start finding gifts for friends and families. Why not make it easy this year?
Stop shopping until you drop. This year, support Indie Authors. Through November and December several of us will be promoting Indie Authors' books along with our own. It's so simple to purchase an e-book these days. You just need the recipient's email address to buy a gift from either Amazon, Smashwords, or Barnes and Noble. As our gift to you, some of us will be selling at just 99cents, so take advantage of the holiday prices to load up your friends' and families' libraries. And while you're at it, why not grab yourself a copy?
Today I am featuring Lowell Forte's holiday story The Mystery of Santa's Watch. This isn't a sale alert, but a new story alert.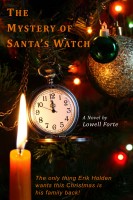 A Thanksgiving night crash on the icy and infamous Dead Man's Curve leaves Erik Holden an orphan and…
View original post 157 more words